Featured Room of the Month at The Richard Johnston Inn. . . The Loft
The Loft is a suite that includes a living area with sofa and comfortable chair on the main floor of the inn, with windows that overlook our courtyard patio. In the corner is a 55" television and a breakfast bar which offers a coffee maker and a carafe of complimentary bourbon. Also, a microwave and a mini fridge for your comfort and convenience.
The bedroom is up a small flight of stairs, offers a King size bed and overlooks the living area.
In the bathroom there is a jetted tub and shower combination, and complimentary soothing bath oils and signature toiletries.
Comfortable and plush robes help to bundle you up on a cold winters night!
Special Rates for Room of the Month . . . . .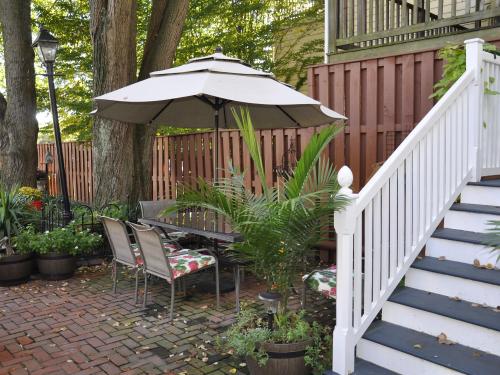 First and foremost. . . . . You must book directly with us and mention the room of the month.
Sunday through Thursday offers a 25% discount
Two nights booked on the weekend qualifies for 25% discount. For example:

Thursday & Friday
Friday & Saturday
Saturday & Sunday

A single night on Friday or Saturday offers a 15% discount
Featured Room of the Month at The 1890 Caroline House. . . The Sawyer Scott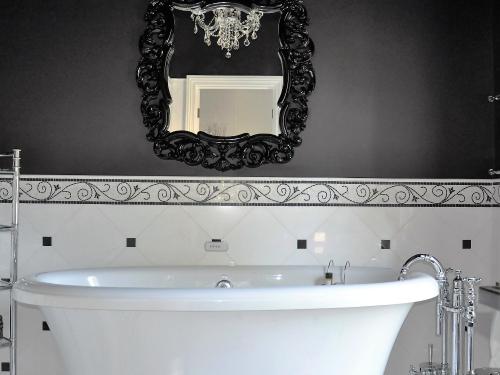 The Sawyer Scott is a room that offers the comfort of a King size bed and a oversized jetted bathtub. The bathroom also has a seperate oversized, walk in shower.
In the bedroom is an electric fire place and a comfortable settee and chair offers a place to curl up with a book or watch television.
Decorated in black and white, it is one of our most popular rooms and is located on the second floor with a magnificient bay window that faces Caroline Street.


Featured Recipe of the Month - Bourbon and Bananas French Toast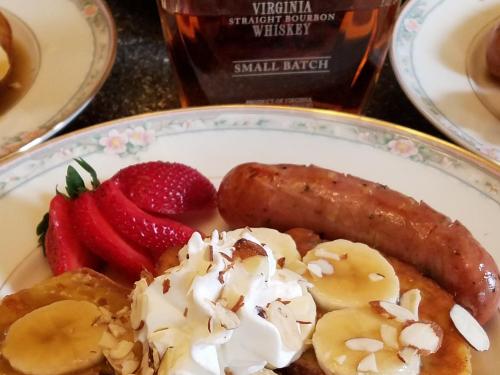 Our Bourbon and Bananas French Toast is one of our "sweet" entrees that is a guest favorite. It's a simple dish and made with one of our favorite spirits, A Smith Bowman Distillary Small Batch Bourbon.
We start with Chibatta Bread and use that for our french toast - this is simple, everyone has their own favorite recipe and we encourage you to use yours. Prepare french toast accordingly. To plate, top french toast with sliced bananas then ladle Bourbon Caramel sauce over toast and garnish with chopped nuts of choice. We use pecans. Final touch . . . . top with whipped cream. YUMMY!!!
The Bourbon Caramel sauce recipe is easy as well:
1 cup cream
1 cup brown sugar
1/2 stick butter
1/4 cup bourbon - more :-) or less depending on taste.
Mix cream and butter together in saucepan and stir until brown sugar is melted on low heat.
Add butter to mixture and stir until completely melted
Stir in bourbon and keep on low heat until ready to pour over french toast
ENJOY!!! Take a picture and post on our facebook page . . . .Please!!
https://www.facebook.com/therichardjohnstoninn/